Every day, we offer you a typical French lunch at a reasonable price. We include all the ingredients
of a balanced meal between proteins, vitamins, fibers and carbohydrates.
And you can enjoy the pool!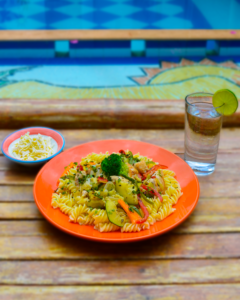 Delicious chicken pasta with its creamy juice and lots of vegetables, accompanied with tomato
salad.
Grilled hamburger meat with sautéed green beans and onion accompanied by rice and carrot
salad.
Stewed lentils with vegetables, grilled chorizo accompanied by rice and fresh cucumber salad.
Grilled marinated pork chop with mashed potatoes accompanied by breaded eggplant and mixed
salad.
Baked Mediterranean fish with tomatoes, onion and spices with steamed potato and creamy
cheese sauce.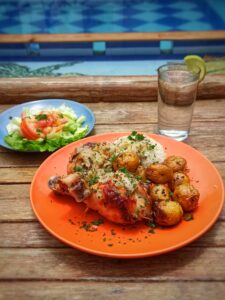 Chicken thighs with baked Creole potatoes with onion sauce and hot spices served with fresh salad
and rice if desired.
Red beans stewed with pork and lots of vegetables, served with rice and accompanied by avocado
slices.