We show you some of our favorite dishes with an experience of 15 years!
Traditional homemade bread seasoned with olive oil and garlic baked with fresh tomatoes and
mozzarella cheese.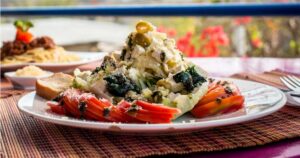 Fresh lettuce with tender chicken, Parmesan cheese, roasted peanuts and croutons seasoned with
a delicious creamy French mustard sauce.
Delicate fish fillet of the day, sea bass, snapper or grouper… sautéed served with the sauce of your
choice, with garlic, white wine or special shrimp sauce, accompanied by house vegetables and soft
rice.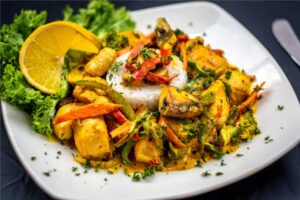 Our specialty chicken in coconut milk creamy curry sauce and vegetables served with tender rice.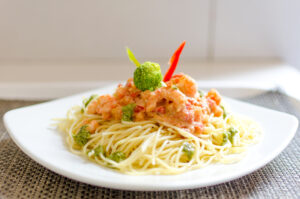 Amazing pasta served with special creamy shrimp sauce with fresh herbs and broccoli.
Divanga's star, pan-fried beef tenderloin defatted with red wine to create a creamy pepper sauce
accompanied by our traditional potatoes and house vegetables.
Beef tenderloin with its delicate creamy sauce with original French mustard and julienned shallots,
served with our traditional potatoes and house vegetables.
Delicious meat sauce stewed with lots of vegetables, carrots, all the Mediterranean species, red wine and the magic touch of Divanga. Served with traditional Parmesan cheese and fresh house bread.